Into Missouri:
Clear skies this morning. Crossed the Mississippi River and entered Missouri. Had to ride a section of I-270 through Saint Louis with heavy traffic. Breath of fresh air when I turned back onto the Mother Road.
Stopped at the Circle N in Bourbon, Mo for a late morning breakfast. Circle N has been serving great diner road food on Route 66 for over fifty years. This place is the real deal. Not a plastic tourist stop. Great friendly people to chat with.
A few miles after breakfast a tee-pee caught my eye off to the side of the road.
Met Joe and his wife. They are both Cherokee. I realized I was on a part of the "Trail of Tears". They were making buffalo jerky to sell along with other native crafts. Joe and I stood outside talking, sharing stories and family history. We talked about Question of Power. He brought out his flute and played a song for my trip.
I bought some buffalo jerky to carry in my saddle bags before we parted. As I pulled back onto Route 66 Joe raised his arm with a parting wave. Felt like I had known him for a long time.
The largest rocking chair in the world is located four miles west of Cuba, Mo.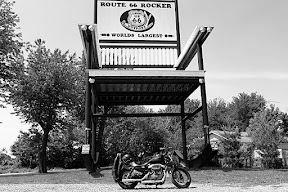 Yes, that is my bike sitting in front of the rocking chair. No funny Photoshop tricks here. It's real! It's BIG! Why...one can only guess.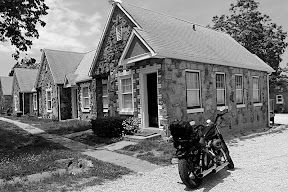 Spending the night at the Wagon Wheel Motel in Cuba. Stone cottages built in the '30s. A classic Route 66 spot. Beautiful!
The ride today was all about "pressing and leaning". Which means the Mother Road was filled with gentle curves and rolling hills. Great riding.
Checking the weather tonight. Tornados all along the route. Springfield, Mo tomorrow weather permitting.
be strong, be safe, Carlan